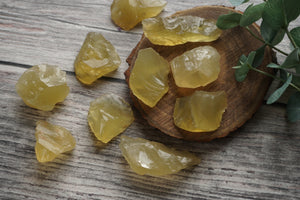 Lemon quartz is said to improve intellect & help with reasoning to come to better understanding. It is a protective crystal, great for those of you in business that need to take some high risks. It of course also boosts cheerfulness & brings in happy & positive energy.


Lemon quartz is also known as Sun stone, Light Stone, Coyote Stone as well as Aspricosin. It is fairly rare & found mainly in Burma, France, Argentina & Brazil.

**NOTE: If you have a Lemon Quartz piece that  Lemon quartz has a cat-eye and/or sparking color, it is mildly treated. None of the pieces I have in stock are treated with this process.


Other Information:
*Listing is for (1) one Lemon Quartz raw stone. The piece will be intuitively picked for you.
*Size is approximately 1,5-2,5cm. Sizes & coloring will vary.
*Origins: Brazil
*We take photos in daylight and with no color adjustments.
*There are variations in shape, size, colour and texture due to the fact that each crystal is unique.