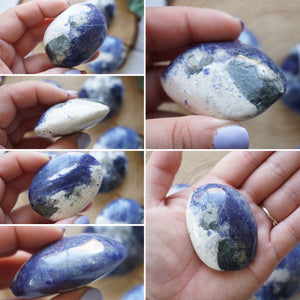 Sodalite is believed to be emotionally balancing and is great to help clearly see the truth by replacing emotions. Great for rational thought, objectivity and verbalisation of feelings, Sodalite will help you by calming the mind.

Other Information:
* Part of the palmstone has a rough tourmaline patch
*5,5cm, REF A
*Origin: Brazil
*We take photos in daylight and with no color adjustments.
*There are variations in shape, size, colour and texture due to the fact that each crystal is unique.