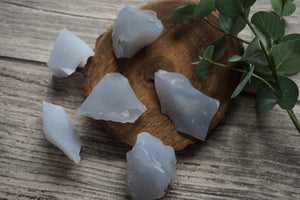 Blue Chalcedony is said to bringing calm and encourages self-confidence & bring inner peace. It is part of the Chalcedony family that is a nurturer promoting kindness, energy, endurance and friendliness.
Other Information:
*Listing is for (1) one Blue Chalcedony raw stone. The piece will be intuitively picked for you.
*Size is approximately 1,5-2,5cm. Sizes & coloring will vary.

*We take photos in daylight and with no color adjustments.
*There are variations in shape, size, colour and texture due to the fact that each crystal is unique.