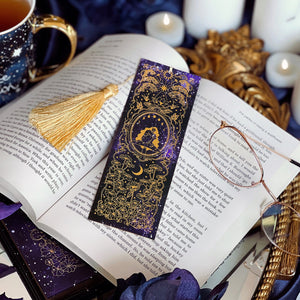 Your book called, and she said she wants her fave bookmark back. 
You will fall absolutely in love with the intricate luxe gold line work that's delicately printed over my hand-drawn sky-inspired design. It wouldn't be complete without some dreamy gold edging and a tassel to make it that extra bit special. I promise this will be your fave new bookmark and will see you through many of your incredible bookish adventures. 
Happy reading book lovers. 
~~~

This piece was created from deep within my heart and soul. It has been printed on the highest quality paper by the highest quality printers so that absolutely no colour goes unused and no detail goes unseen. Art is an extension of my being and being able to share a piece with you means the absolute world to me. I hope you love it!   

DETAILS
- Double Sided Bookmark
- 450gsm Matte Board
- Gold edging & linework
- Tassel
- Created and drawn with love!
*Images and descriptions courtesy of The Quirky Cup Collective