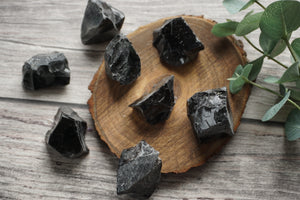 The black obsidian is known to work by cleansing the aura from any psychic smog. It will protect you from negativity and bring clarity of the mind. It is also believed to clear confusion.
Other Information:
*Listing is for (1) one black obsidian raw stone. The piece will be intuitively picked for you.
*Size is approximately 1,5-2,5cm. Sizes & coloring will vary.

*We take photos in daylight and with no color adjustments.
*There are variations in shape, size, colour and texture due to the fact that each crystal is unique.