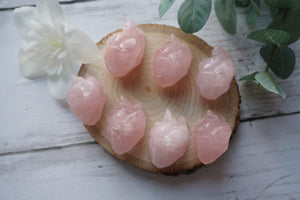 The Heart:
This shape of crystal is perfect for using in crystal grids or in amplifying love. It is said that the heart's tip will direct the flow of energy. Point it towards you, you can bring yourself the energy and point it outwards, you will allow energy to flower to the outward environment. The heart represents the central wisdom of feeling and is a representation of understanding, compassion and love.

The Crystal: Rose Quartz:

What says love than a Rose Quartz? It is said to encourage unconditional love by purifying and opening up the heart on all levels.

--
Other Information:
* Listing is for (1) one mini heart.
*Your piece will be intuitively picked for you.
*Origin: Carved in Brazil
*We take photos in daylight and with no color adjustments.
*There are variations in shape, size, colour and texture due to the fact that each crystal is unique.