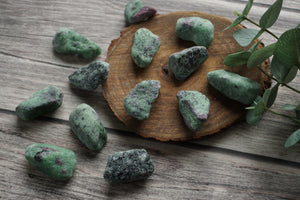 This powerful combination crystal boosts happiness, abundance as well as growth as it combines both Ruby known for passionate energy and Zoisite bringing in calm & balance.
Other Information:
*Listing is for (1) one Ruby in Zoisite raw stone. The piece will be intuitively picked for you.
*Size is approximately 1,5-2cm. Sizes & coloring will vary.
*Origins: Tanzania
*We take photos in daylight and with no color adjustments.
*There are variations in shape, size, colour and texture due to the fact that each crystal is unique.