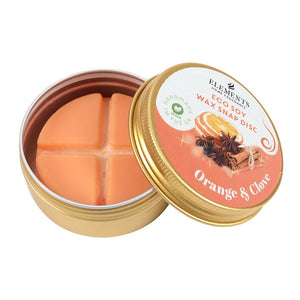 This Orange & Clove wax melt tin from our Christmas home fragrance range comes in a new, easy-to-use disc form. Each 25g disc is divided into 4 sections for up to 45 hours of long-lasting fragrance. Handmade in the UK from 100% vegan soy wax and high-quality fragrance oil blends, our soy wax melts are non-toxic and completely biodegradable.

Scent description: The invigorating scent of fresh orange mixed with spicy ground cinnamon, clove and nutmeg is sure to awaken and refresh a cold, grey winter's day. A real crowd-pleaser all season long!
Other Information:
*Handmade in the UK
*Designed by Devon Wick Candle Co. Ltd
*Distributed by Something Different Wholesale

Important:
The wax melt discs may have a visible white 'frosting' which is caused by the wax molecules re-crystallizing and forming visible crystals on the surface of the wax melt. All soy waxes frost and this is a sign you are using 100% natural soy wax.