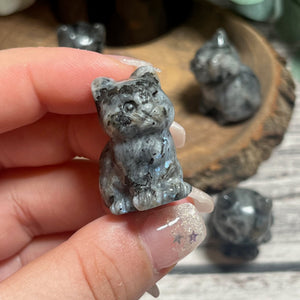 The cat is a very well known Spirit Animal. Well known in Egyptian History to be very protective and keepers of the other world. They will help develop your intuition and help you keep confidence in moments of darkness.
Larvikite:  Larvikite is all about adapting to change and is known to be the crystal for inner-transformation. It is the perfect crystal to assist you when you need inner strength & personal willpower. Larvikite is made up of feldspar & it has a type of feldspar in it said to be rich in potassium, sodium & calcium, creating a silver-blue shimmer known as Schiller Effect.
Other Information:
*Listing is for (1) one animal carving. 
*Your piece will be intuitively chosen for you
*Each animal comes in a custom box and an adoption certificate.

*We take photos in daylight and with no color adjustments.
*There are variations in shape, size, colour and texture due to the fact that each crystal is unique.