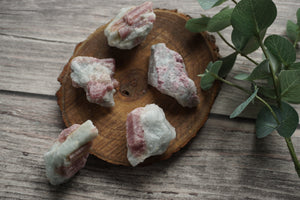 Pink Tourmaline is said to regulate emotions but it is also believed to allow the release of stress and worries. It is very relaxing and extremely nurturing. Pink Tourmaline is also called rubellite & can be found all around the globe.
Other Information:
*Listing is for (1) one Pink Tourmaline Raw stone.
*Your piece will be intuitively picked for you.
*Choose your color in the dropdown menu.
*Size is approximately 1,5-2cm. Sizes & coloring will vary.
*Origin: Brazil
*We take photos in daylight and with no color adjustments.
*There are variations in shape, size, colour and texture due to the fact that each crystal is unique.