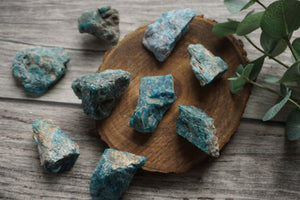 Apatite is the perfect communication stone as it is said to allow guidance to growth. It is believed to be a stone that cleanses the aura and increases motivation.

Other Information:
*Listing is for (1) one Apatite raw stone. The piece will be intuitively picked for you.
*Size is approximately 1,5-2,5cm. Sizes & coloring will vary.

*We take photos in daylight and with no color adjustments.
*There are variations in shape, size, colour and texture due to the fact that each crystal is unique.