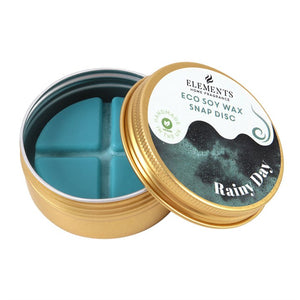 This Rainy Day wax melt tin from our 'Staying In' home fragrance range comes in a new, easy-to-use disc form. Each 25g disc is divided into 4 sections for up to 45 hours of long-lasting fragrance. Handmade in the UK from 100% vegan soy wax and high-quality fragrance oil blends, our soy wax melts are non-toxic and completely biodegradable.
Scent description: A fresh marine fragrance opening with lemon, lime, bergamot, juniper and green notes supported by waterlily, fern and lavender resting on an ozonic base of precious woods, ozonic notes and amber. Perfect for grey days!
Other Information:
*Handmade in the UK
*Designed by Devon Wick Candle Co. Ltd
*Distributed by Something Different Wholesale

Important:
The wax melt discs may have a visible white 'frosting' which is caused by the wax molecules re-crystallizing and forming visible crystals on the surface of the wax melt. All soy waxes frost and this is a sign you are using 100% natural soy wax.